A-litter 20 days old
Outcross Programma Ierse setters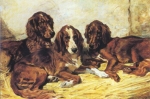 vrijdag 19 juni 2015. Puppies 20 dagen. Doen hun behoeftes al netjes op de kranten, en moeder Summertime Lady stofzuigert nog even na.

diashow will stop on 'mouse-over'
fotografie Joop Buiten
Buitengewoon webontwerp / webmaster info@jbuiten.nl

Background watermark: Painting of the famous Multi Ch. Shandon O'Cuchulain.